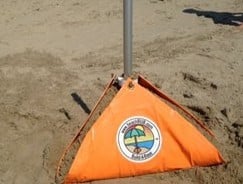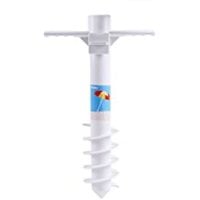 If you Google, Bing or Yahoo search for "beach umbrella safety", you will find dozens of devices to help hold a beach umbrella in the sand.  I like searching on Amazon too because you get good descriptions of the products and ratings of the suppliers.
The screw type sand anchor above works up to a point.  The more surface area on the screw blades, the better they hold in the sand.  The Ohuhu shown above has 5 tiers as compared to most others that only have 3 tiers. It can be found on Amazon, eBay and other websites as well as on:

The BeachBub puts a large amount of weight at the base of the umbrella.  I believe this is the best solution available.

Bags provide a similar funtion to BeachBub; they weigh the umbrella down.  The Shade Anchor Bag and Jet Lock Bag are just two of many available.​